BEN-GURION AND KAPLAN ON THE HEBREW LABOR MOVEMENT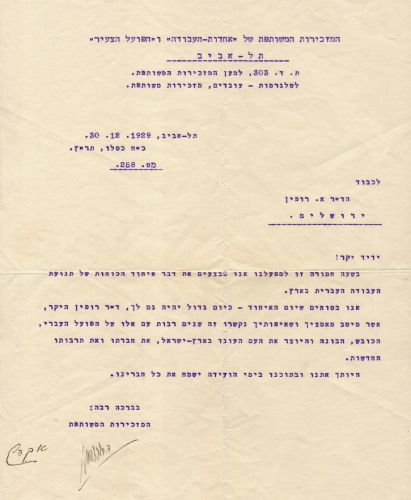 BEN-GURION, DAVID; KAPLAN, ELIEZER. Typed Letter Signed

Typed letter, in Hebrew, signed by David Ben-Gurion and Eliezer Kaplan. One page, 9.5" x 11.5", Tel Aviv, December 30, 1929, written to "Dr. A[rthur] Ruppin", a sociologist, Zionist thinker, and one of the founders of Tel Aviv.

Translation of the Hebrew text:

"Dear Friend! In these serious times for our endeavors, we are carrying out the unification of the forces of the Hebrew labor movement in Aretz [Eretz, Israel]. We are sure that the day of unification-will also be a great day for you, dear Dr. Ruppin, as the best of your efforts and hopes have been tied these many years with those of the Hebrew worker, who is conquering and building and creating the working Nation in Eretz Israel, and its new society and its culture. Your being with us and among us during the convention will bring joy to all our members. With many blessings, the Joint Secretariat, D. Ben Gurion, E. Kaplan".

In 1930, the United Labor Party and Young Workers Party consolidated and formed Mapai, which became the strongest political party in Israeli politics until the 1960s and was led by David Ben-Gurion. In 1948 Ben-Gurion of course become the first Prime Minister of Israel while Eliezer Kaplan was appointed Minister of Finance. Usual mail folds, otherwise near fine condition. An early letter with good content uniting three (Ben-Gurion, Kaplan, Ruppin) important figures in the foundation of Israel. $3000.