CLASSIC OF EGYPTOLOGY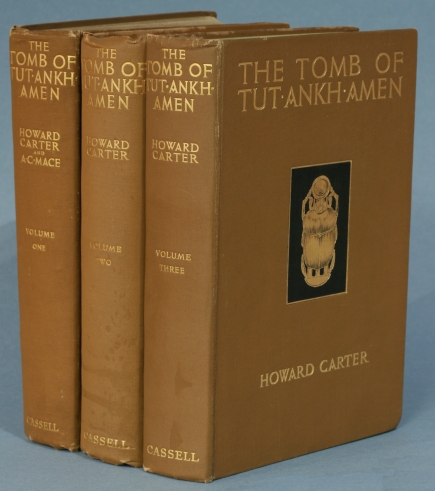 Carter, Howard. The Tomb of Tut-Ankh-Amen
FIRST EDITIONS OF ALL THREE VOLUMES of Carter's description of one the greatest archaeological finds of all time: the discovery of the tomb of Tutankhamen.
"About 1907 [Carter] began his association with the 5th earl of Carnarvon, a collector of antiquities who had sought out Carter to supervise excavations in the valley. On November 4, 1922, Carter found the first sign of what proved to be Tutankhamen's tomb, but it was not until November 26 that a second sealed doorway was reached, behind which were the treasures" (Britannica). Carter has written a vivid description of the dramatic moment of discovery:
"At first I could see nothing, the hot air escaping from the chamber causing the candle to flicker, but presently, as my eyes grew accustomed to the light, details of the room emerged slowly from the mist, strange animals, statues and gold - everywhere the glint of gold. For the moment - an eternity it must have seemed to others standing by - I was struck dumb with amazement, and when Lord Carnavon, unable to stand the suspense any longer, inquired anxiously 'Can you see anything?', it was all I could do to get out the words 'Yes, wonderful things'."
---
London: Cassell & Company, 1923-27-33. Thick octavo, original brown cloth. Three volumes. All three volumes in excellent condition and complete, with the full complement of 413 illustrated and photographic plates. Occasional scattered foxing; Vol II with spotting to spine; Vol III slightly cocked and hinges tender (but holding). Small Cairo, Egypt bookseller sticker on two pastedowns. Cloth generally very clean with gilt exceptionally bright. An unusually well-preserved set of a first edition that is difficult to obtain in collectible condition. $3800.