EARLY LIVES OF THE SAINTS, WITH OVER 200 WOODCUTS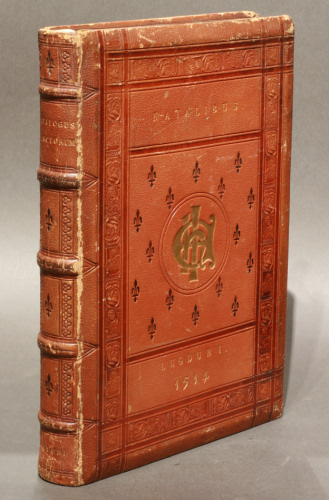 NATALIBUS, PETRUS DE. Catalogus sanctorum et gestorum eorum

THE CELEBRATED 1514 FIRST SACON [SACCON] EDITION, illustrated with over 200 woodcuts, of one of the three great early lives of the saints (along with the Golden Legend, and the Lives of the Holy Fathers).

"No details of the early life of this hagiographer [Petrus de Natalibus] have been handed down to us. A Venetian, he consecrated himself to the ecclesiastical state, becoming a canon in Equilio (Jesolo). On 5 July, 1370, he was elevated to the episcopal see of that city. Details are also lacking regarding his pastoral activity. The last mention of him refers to the year 1400, and in 1406, another appears as Bishop of Equilio; the date of his decease, therefore, must be set between these two years (Eubel, "Hierarchia catholica medii aevi", I, 250). He is chiefly known as the author of "Legends of the Saints" in twelve books, a very valuable work with a wide circulation. In his arrangement of the various lives he follows the calendar of the Church. The collection, first printed in Vicenza, 1493, went through many editions, the last of which (the eighth) appeared in Venice, 1616" (Catholic Encyclopedia). All the early editions are rare, and the first Sacon edition is prized in particular for the high quality of both the printing and the illustrations.

Lyons: J. Sacon, December 9, 1514. Folio (leaf size 11 7/8 x 8 1/16 inches), nineteenth century full brown morocco gilt with elaborate blind-stamped designs. 245 leaves (plus terminal blank). Adams N-46. Some scuffing to binding and rubbing to joints; eighteenth-century owner's inscription on title and a few early scholarly annotations in margins; remnant of leather tab on title; text very clean with only occasional light soiling. Rare. $7400.