"NO INDIVIDUAL HAS HAD A GREATER INFLUENCE UPON THE WESTERN AMERICAN ART, LITERATURE AND HISTORY OF OUR COUNTRY THAN GEORGE CATLIN"

CATLIN, GEORGE.

Letters and Notes on the Manners, Customs, and Conditions of the North American Indians
"These tribes, sir, that have preceded us, to whose lands we have succeeded, and who have no written memorials of their laws, their habits, and their manners, are all passing away to the world of forgetfulness. Their likeness, manners, and customs, are portrayed with more accuracy and truth in this collection by Catlin than in all the other drawings and representations on the face of the earth." -Daniel Webster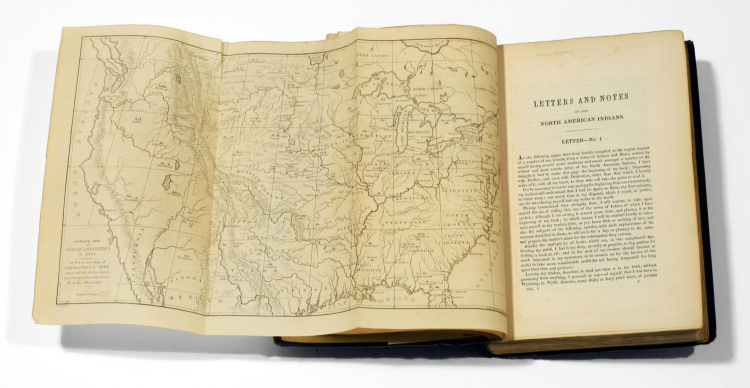 FIRST EDITION, FIRST ISSUE of Catlin's monumental work on the North American Indians. With two maps (one folding), one chart, and over 300 illustrations.

Catlin "had been interested in Native American life from his boyhood, and in 1828, after encountering a delegation of Plains Indians in Philadelphia on their way to Washington, D.C., he became determined to record the Native American heritage before it was destroyed by the onslaught of the advancing American frontier. In 1830 he traveled west to St. Louis, and he began a series of visits to various tribes, chiefly in the Great Plains. He made more than 500 paintings and sketches based on his observations during his travels and exhibited these works in the United States and Europe from 1837 to 1845 as the 'Indian Gallery.' In 1841 he published his best-known book, the two-volume Letters and Notes on the Manners, Customs, and Condition of the North American Indians, which was illustrated with many engravings" (Britannica). (Headline quote: Harold McCracken, Catlin and the Old Frontier.)
London: by the author, 1841. Two volumes. Octavo, original cloth with paper labels. First issue, with "Frederick" for "Zacharias" on page 104 in vol. 1. Some spotting, soiling and softening to covers, occasional light foxing throughout, folding map in volume 1 in excellent condition, a few plates in volume 2 with circular dampstains; generally a very good set. $5700.