"NEVER IN THE FIELD OF HUMAN CONFLICT WAS SO MUCH OWED BY SO MANY TO SO FEW"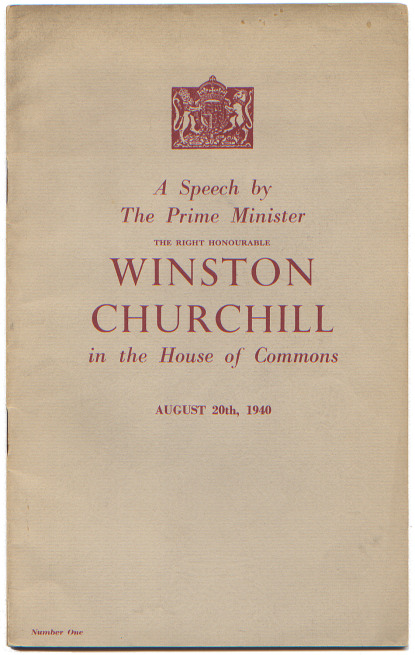 CHURCHILL, WINSTON. A Speech by the Prime Minister in the House of Commons

"Hitler is now sprawled over Europe. Our offensive springs are being slowly compressed, and we must resolutely and methodically prepare ourselves for the campaigns of 1941 and 1942. Two or three years are not a long time, even in our short, precious lives. They are nothing in the history of the nation, and when we are doing the finest thing in the world, and have the honour to be the sole champion of the liberties of all Europe, we must not grudge these years or weary as we toil and struggle through them."

FIRST EDITION of Winston Churchill's historic speech before the House of Commons, August 20, 1940. PMM 424.

"If the Gettysburg Address is one of the most moving statements of democracy confronted by tragedy, Churchill's historic exhortations are its equal in their ringing assertion of democracy confronting the seemingly irresistible forces of tyranny" (Printing and the Mind of Man, 424). [London]: [Baynard Press], 1940. Octavo, original printed wrappers. Only a hint of soiling to wrappers. An outstanding copy of one of the most important speeches of the twentieth century. Rare in this condition. $1800.

Custom boxes available. Cloth: $150. Half-leather: $300.