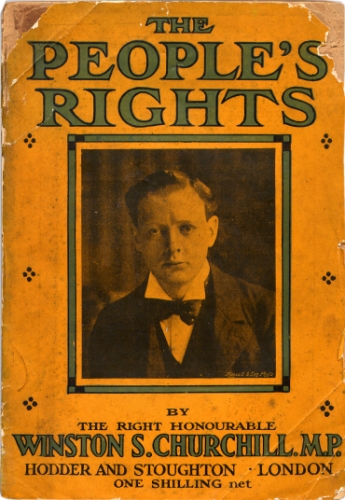 CHURCHILL, Winston S. The People's Rights. London: Hodder & Stoughton (1910). Octavo, original yellow wrappers. $3400.

"I hope that this book may serve at this juncture as a guide for some and as an armoury for others. It states, I think, some of the main arguments upon which we may rely in forms which I hope will make them simple and plain. It also outlines once again the constructive policy which has now been brought definitely into view and hangs in the balance at this fateful hour. Such as it is I offer it to my friends in the country, as ammunition passed along the firing line." –Winston Churchill

First edition, first state (wrappers issue) of Churchill's early collection of political speeches. "As a proposition that justice in the community and the freedom of the individual are complementary and that taxes may be raised without undermining either, The People's Rights comes as a major contribution to current political and economic thought. Indeed it deserves a place in the annals of Man's struggle for freedom and yearning for a society in which the genius of every person would be nurtured and the liberty of every person respected" (Andrew MacLaren). Also issued as cloth bound volume. First state, with one appendix and index. An early Churchill rarity and a notoriously fragile item. Front hinge with expert (almost invisible repair), chipping to front wrapper (as pictured). Light wear to spine. First few and last few leaves with chipping (as often), text with browning (as always). An excellent copy of an item that is extremely difficult to find in collectible condition.