FIRST EDITION IN PUBLISHER'S DELUXE BINDING: AN EXCEPTIONALLY FINE COPY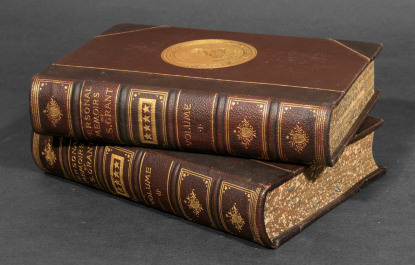 GRANT, ULYSSES S. Personal Memoirs of U.S. Grant

"What General Lee's feelings were I do not know. As he was a man of much dignity, with an impassible face, it was impossible to say whether he felt inwardly glad that the end had finally come, or felt sad over the result, and was too manly to show it. Whatever his feelings, they were entirely concealed from my observation; but my own feelings, which had been quite jubilant on the receipt of his letter, were sad and depressed. I felt like anything rather than rejoicing at the downfall of a foe who had fought so long and valiantly, and had suffered so much for a cause, though that cause was, I believe, one of the worst for which a people ever fought, and one for which there was the least excuse. I do not question, however, the sincerity of the great mass of those who were opposed to us." -Grant, upon meeting Lee at Appomattox Court House to discuss the terms of surrender.

FIRST EDITION IN ORIGINAL PUBLISHER'S DELUXE MOROCCO of Grant's important and fascinating memoirs, illustrated throughout with numerous steel engravings, facsimiles, and over forty maps. Written during the final days of Grant's life and seen through publication by Mark Twain, the Memoirs provide a personal and poignant record of some of the most significant events in American history.
---
New York: Charles L. Webster & Co., 1885-86. Octavo, original three-quarters publisher's deluxe morocco with gilt medallions on boards. Two volumes. Gilt a little brighter on vol II; tiny split (but completely holding) to hinge on vol I. A superb set; rare in such fine condition.$3700.