THOUSANDS OF MATHEW BRADY PHOTOGRAPHS

MILLER, FRANCIS TREVELYAN.
The Photographic History of the Civil War
"The grandfather of pictorial histories, this mammoth work is a necessary part of any Civil War library. The work contains 3,389 images that constitute an important source on the war's appearanceóits battlefields, common soldiers, officers, forts, diseases, camp scenes, army movements, and materiel." Eicher, The Civil War in Books 771.
FIRST EDITIONS of all ten volumes of Millerís famous photo-documentary of the Civil War.

Millerís work "still remains the major source for photographs of the Civil War; the greatest single collection of Brady illustrations" (Allan Nevins). The Mathew Brady photographs represent the first instance of a comprehensive photo-documentation of a war. As the New York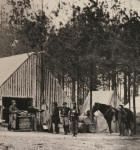 Times reported, Brady had brought "home to us the terrible reality and earnestness of war."
New York: The Review of Reviews, 1911. Quarto, original blue cloth gilt. Ten volumes. Only very minor wear to bindings, with gilt exceptionally bright. A beautiful set, rare in this condition. $2200.