"THE FIRST COMPREHENSIVE CELEBRATION OF THE ENTIRE CONTINENTAL NATION"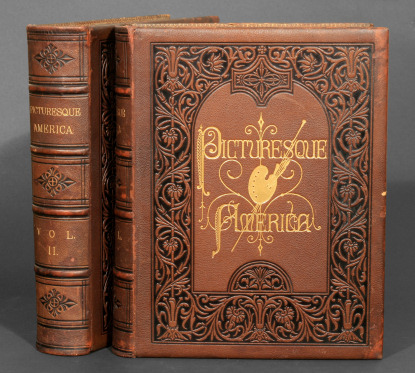 BRYANT, WILLIAM CULLEN, ed.
Picturesque America
"It is the design of the publication entitled 'PICTURESQUE AMERICA' to present full descriptions and elaborate pictorial delineations of the scenery characteristic of all the different parts of our country. The wealth of material for this purpose is almost boundless..."
FIRST BOOK EDITION, in deluxe publisher's full morocco binding, of the most famous and influential early pictorial representation of the United States. Beautifully illustrated with over 900 wood engravings and fifty steel engravings.
"Picturesque America was a conspicuous presence in the popular culture of the United States in the post-Civil War years. First published as a magazine series in Appletons' Journal, then as a subscription book, in parts, from 1872 to 1874, it reached a huge audience. It's voluminous text and over 900 pictures represented the first comprehensive celebration of the entire continental nation... Picturesque America is one of the most important sources for understanding how Americans thought about themselves, their landscape, and the rest of the world in the decade following the Civil War....
"Picturesque America achieved unprecedented success... Its visual richness—more than nine hundred wood engravings and fifty steel engravings—accounted for much of its appeal in an age hungry for images. As recently as the 1870's, many parts of the United States were known to most Americans only from verbal reports, if at all... [Through the engravings] many Americans were seeing for the first time what they had only abstractly imagined as their country" (Rainey, Creating Picturesque America).
New York: D. Appleton, (1872-74). Two volumes. Thick folio, original publisher's deluxe full blind-tooled morocco gilt. A hint of rubbing to bindings. Exceptionally fine copies, scarce in this condition. $1500.