THEODORE ROOSEVELT AS HUNTER AND NATURALIST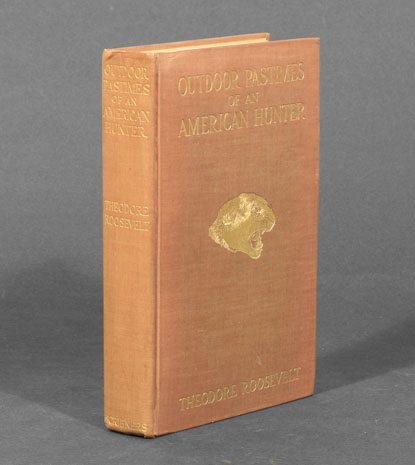 ROOSEVELT, THEODORE. Outdoor Pastimes of an American Hunter

"Again next morning we were off before the sun had risen high enough to take away the cool freshness from the air. This day we travelled several miles before we saw our first coyote. It was on a huge, gently sloping stretch of prairie, which ran down to the creek on our right. We were travelling across it strung out in line when the coyote sprang up a good distance ahead of the dogs. They ran straight away from us at first. Then I saw the coyote swinging to the right toward the creek and I half-wheeled, riding diagonally to the line of the chase..."

FIRST EDITION, illustrated with frontispiece portrait and 48 photographic plates, of Roosevelt 's interesting collection of anecdotes about his hunting experiences. Contains evocative descriptions of the American countryside and well as exciting and informative details about the thrill of the chase.

Outdoor Pastimes of an American Hunter "is one of the very few instances of a book written by a President of the United States and published during his term in office... Mr. Roosevelt's literary method in treating of outdoor subjects is well known. It is characterized by a thorough-going purpose to do something more than merely narrate the author's personal adventures. The real groundwork of all Mr. Roosevelt's writing on these subjects is the broad, scientific method of the naturalist; and a naturalist Mr. Roosevelt preeminently is... Interest in his present book will no doubt be heightened by the fact that many of the illustrations are from photographs taken by the President himself or by members of his family" (The American Monthly Review of Reviews, 1905).

New York : Charles Scribner's Sons, 1905. Quarto, original brown gilt-stamped cloth. Light wear to original cloth and a hint of fading to spine; a near fine copy. $950.