SHACKLETON'S HEROIC EXPEDITION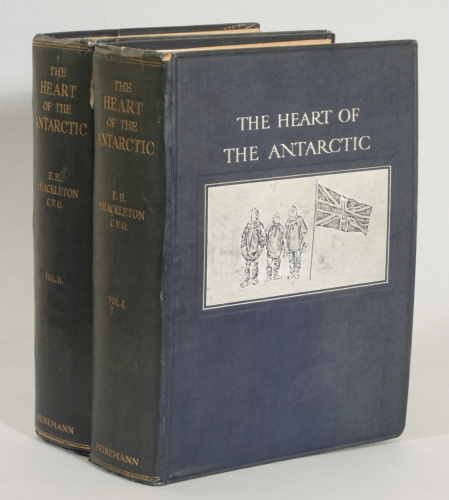 SHACKLETON, ERNEST H. The Heart of the Antarctic

"Men go out into the void spaces of the world for various reasons. Some are actuated simply by a love of adventure, some have the keen thirst for scientific knowledge, and others again are drawn from the trodden paths by the 'lure of little voices,' the mysterious fascination of the unknown. I think that in my own case it was a combination of these factors that determined me to try my fortune once again in the frozen south..."

FIRST EDITION, trade issue, of Shackleton's account one of the most celebrated Antarctic expeditions, complete with 2 frontispieces and 12 color plates, 194 plates, diagrams on letterpress, 3 maps and 2 panoramas (on one sheet) in pocket at end of vol.II.

"In January 1908 [Shackleton] returned to Antarctica as leader of the British Antarctic (Nimrod) Expedition (1907–09). The expedition, prevented by ice from reaching the intended base site in Edward VII Peninsula , wintered on Ross Island , McMurdo Sound. A sledging party, led by Shackleton, reached within 97 miles (156 km) of the South Pole, and another, under T.W. Edgeworth David, reached the area of the South Magnetic Pole. Victoria Land Plateau was claimed for the British crown.On his return Shackleton was knighted and was made a companion of the Royal Victorian Order" (Britannica).

"Shackleton had made a tremendous advance towards the south and had shown his powers of leadership. He had taken risks, but his decisions turned out to be right. His men called it Shackleton's luck (he called it Providence), and he could claim to have borne out the family motto Fortitudine vincimus (By endurance, we conquer)" (DNB).
---
London , William Heinemann, 1909. With An Introduction By Hugh Robert Mill, D. Sc. An Account Of The First Journey To The South Magnetic Pole By Professor T.W. Edgeworth David F.R.S. Octavo, original decorated blue cloth, top edges gilt. Two volumes. Vol I: Bookplate; small newspaper clipping on front pastedown; early owner signature on front free endpaper; remnant of staple to dedication leaf, rear endpaper and last leaf (photo); minor foxing to text edges; internally very clean. Vol 2: Front cover very slightly faded, slight bubbling to cloth; bookplate; staple and early annotations to rear endpaper; internally very clean. $1500.