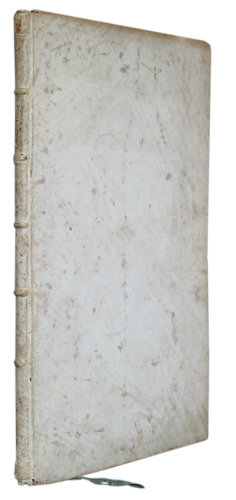 TERTULLIAN. Apologeticus Adversus Gentes
Editio princeps and first edition of Tertullian's masterpiece. $12,500.
Venice: Bernardinus Benalius, [not after 1494]. Folio, early vellum. Light dampstaining to bottom corner of leaves (not affecting text); browning to a few leaves. Very rare. Goff T – 117.
Tertullian, who is known as the "father of the Latin Church," wrote the Apologeticum to shame the Roman authorities for the widespread persecution of Christians in Carthage. "[The Apologeticum's] effect on Christians was deep and immediate. If Tertullian appeared to invoke Roman magistrates and to address the pagan world, most of his statements were also designed to encourage Christians. They felt confidence in a spokesman who could prove their respectability, both social and intellectual, by his very existence. He damned by ridicule the aspersions which daily assailed them, he filled them with a strong sense of moral superiority. If they heeded Tertullian, they need no longer believe themselves outcasts from normal society" (Tertullian, by T.D. Barnes).